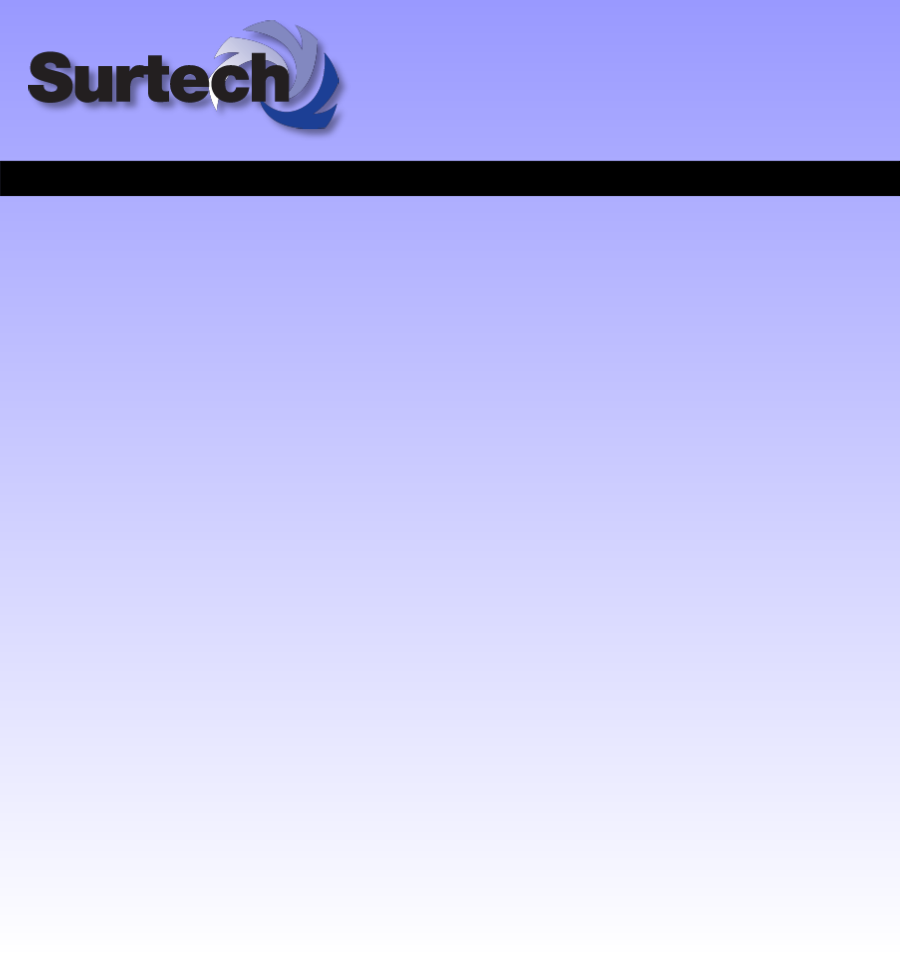 specialists in surface technology engineering. Call us on (44) 0121 359 4322 or email sales@surtech.co.uk

Surface Technology Products Limited
244-5 Heneage Street. Birmingham B7 4LY. Tel:(44) 0121 359 4322 fax (44) 0121 359 1817 Email sales@surtech.co.uk


Abrasive Test Centre
You are invited to visit our Abrasive Test Centre, by far the largest in the UK and as far as we know the largest in Europe.
Here you will find the very latest grinding, deburring and polishing equipment and materials. More than 25 portable abrasive power tools, over 50 manual abrasive belt grinding machines, tube notchers, tri-planetary machines for polishing bent tube, abrasive belt centreless machines, abrasive belt flatbed throughfeed machines, a wide belt deburring and finishing machine, tool post grinders and many dedicated machines.
To make the machines perform efficiently and economically we stock every conceivable abrasive grinding, deburring and polishing tool including little known specialities, but all designed to solve problems.
We can offer you more solutions in one place than you could find travelling the country and because we are an independent Company we will recommend what is best for you and not just what is in our manufacturing programme. Bring your own parts and discuss your requirements with our skilled and experienced engineers who will also set up practical demonstrations.See for yourself how our machines can be used to solve problems or to improve efficiency. Alternatively send us parts and we will finish them in accordance with your instructions and tell you how we did it.
Surtech''s 15 000 sq ft factory. 10 minutes from Junction 6 of the M6 (Spaghetti Junction). 20 minutes from Birmingham airport. 10 minutes from Birmingham New Street station.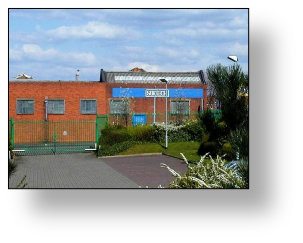 HOW TO ARRANGE A VISIT
Please ring our sales office on 0121 359 4322 and tell us when you want to visit. We can fit you in most days because we can look after more than one visitor at a time. Please give us a brief outline of what you want to see so that we can arrange to have the most suitable machines and materials available.
How to find us:
click here for a map of our location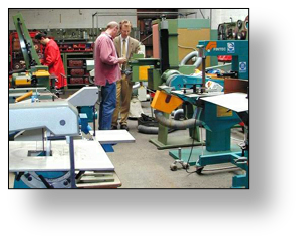 This is the Abrasive Test Centre section with predominantly manual machines. More than 50 general purpose and dedicated machines for grinding, deburring and polishing.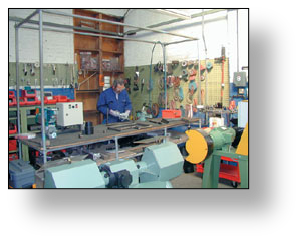 The portable tool section of the Abrasive Test Centre. With more than 50 portable abrasive power tools plus all necessary accessories and consumables.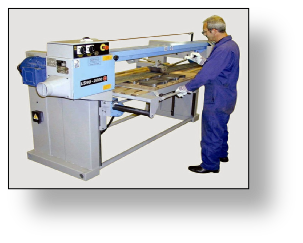 Sheet and plate grinding, deburring and polishing machines with a max. capacity of approx. 2000 mm x 800 mm.
We usually have a narrow belt and a wide belt throughfeed machine available for tests. Plus our permanent display overhead belt machines, which are manually operated and ideal for jobbing shops and fabricators.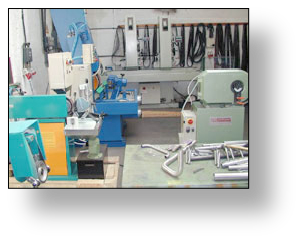 The tube finishing section with centreless and planetary abrasive belt and polishing machines occupies an important part of our Abrasive Test Centre. We have several machines which can be used to establish finishing sequences or to find solutions and develop dedicated machines.
We always have a planetary machine on display which can be used for finishing bent tube and hollow sections.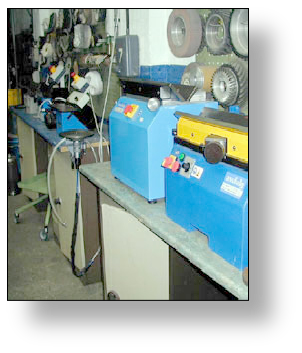 Chamfering and bevelling machines are a fairly recent addition to our range. We have approx. 10 bench and portable chamfering and bevelling machines on permanent display. We can chamfer up to approx. 3 mm chamfer width and bevel for weld preparation up to 15 mm bevel width at different angles.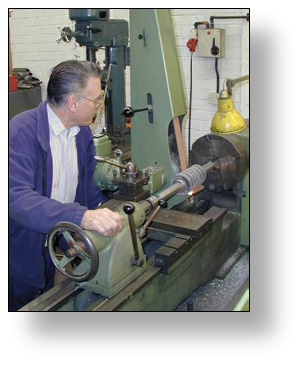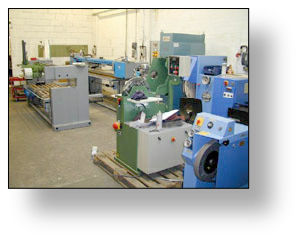 Fabricators corner. Here you will find all essential grinding, deburring and polishing machines for tube and sheet fabricators. Sheet and plate finishers, straight and bent tube polishers, dedicated finishing machines for balustraders, weld cleaning equipment and many more.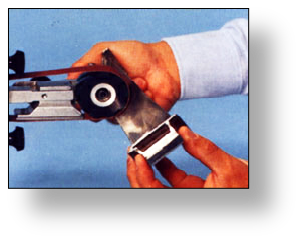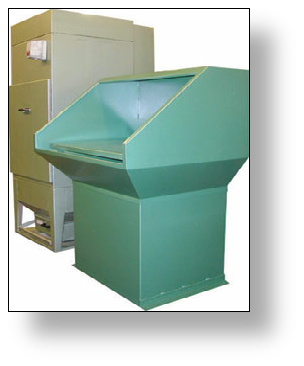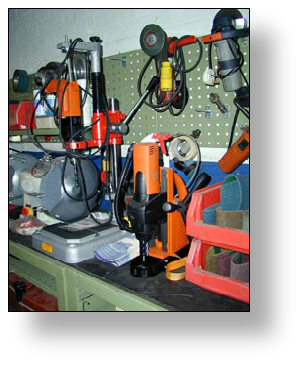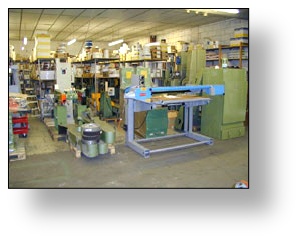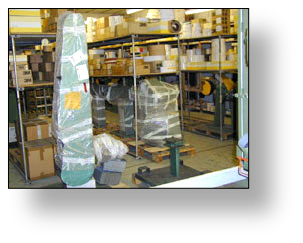 Turbine blades and surgical implants section. With about 10 machines for manually grinding and polishing. Most with variable speed controls and all with quick change contact assemblies. Contact wheels from approx. 20mm dia to 200mm dia.
Dust extraction display. With a selection of extractors specially designed for use with abrasive belt grinding, deburring and polishing machines. Low cost bolt on extractors, extractors that can cope with hot sparks, wet extractors for hazardous dusts like aluminium, titanium and magnesium.
The ancillary machine and tool section contains equipment that is useful to most of our customers but which is not always easily accessible on the market. This is where you will find interesting items like portable and bench band saws, angle grinder converted cutting machines, weld cleaners etc.
We always keep a good selection of the most popular used finishing machines in stock. You can buy them as seen, refurbished or reconditioned to as good as new specification.
Our consumables warehouse stocks hundreds of abrasive tools and polishing tools in most of the popular grades, grits and sizes. Apart from stocking items for resale we also keep back up material for our Abrasive Test centre.